I'm a moderate runner and keep track of my training sessions. I used to do this with a dedicated Garmin Forerunner 305 but someone in our household also appreciated this fine piece of hardware and so I started to keep track of my sessions with my Android HTC One X.
You can download all sorts of Apps to keep track of your running, unfortunately most of them are closed source and require you to give access to all sorts of your device sources (like In-app purchases, Identity, Contacts, Location, Photos/Media/Files, Microphone, etc.). Some of them are necessary for the App to function properly (you can not expect the App to track your movement if you will not give it access to the Location sources), other sources are only necessary to gather as much data from the user as possible to facilitate personalised ad placement.
So I searched around for an Open Sourced Running App for Android and RunnerUp looked like a pretty nice candidate.
The features
The first screen welcomed me with more then I needed: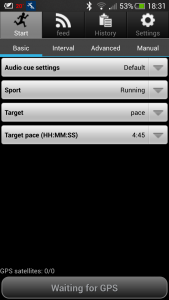 I only wished for something that would activate my GPS and record speed and distance, that would be enough. Luckily RunnerUp can do much more than this, the first screen immediately shows me that I can take benefit of setting a target pace and have an audio cue that will inform me if that pace is kept or not.  And this is only the 'Basic' setting, if you really want to set up an advanced training or specific interval setting you can set it completely to your liking: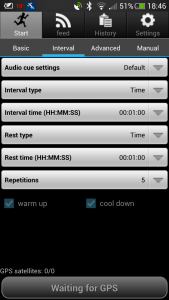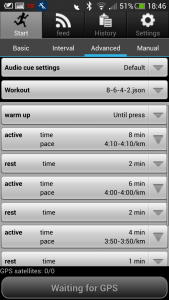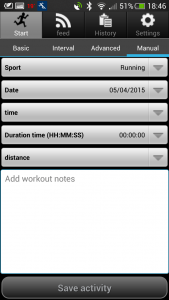 Your sessions are nicely visualised with graphs and maps:
And off course, if you like to share this result with a digital audience then RunnerUp has upload connections to an impressive set of social networks and runner sites: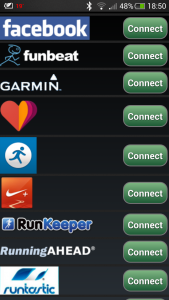 As of this writing the following networks are supported:
Digifit
Endemondo
Facebook
Funbeat
Garmin
Google Fit
MapMyRun
Nike+
RunKeeper
RunningAHEAD
Runtastic
Strava
Jogg
You can even run your own 'Runner Up Live site', apparently you can host your own! See more at https://github.com/markcs/RunnerUpLive. (I installed it but apparently the RunnerUp App still points to the default, demo live site, not the one I'm hosting myself, since it's an open source app I should not be complaining, I've already downloaded the code to see if I can change this and then submit a patch.)
If you follow friends from runner sites you can do this directly in the app with the 'Feed' option, this way you can see how far your companion is running ahead of you.
Looking at the settings will give you an idea about the possibilities this App provides, I did not even know I could connect HRM (Hear Rate Monitoring) devices:
Conclusion
I've been using RunnerUp for a few weeks now and I love it. It's simple enough to not get completely lost in the possibilities and it's advanced enough to provide me with the necessary options to keep my training up.
Especially the audio cue keeps me on the right track, nothing like a nice, configurable voice to inform me that I'm going way too slow 😉
Try it out.