Four years ago we bought my mother-in-law a Dell Inspiron Mini Netbook to have her follow up on her emails in a timely fashion. It's a wonderful, not too expensive device which did the trick beautifully. Recently we had to buy something more powerful because she upgraded herself from Average Mail User 0.1 to Expert Digital Socializer 2.5, which was something we hoped would come naturally. Operation successful.
Off course, this left us with a used Dell Netbook which would end up in the attic, always sad when this happens. Luckily my mother-in-law had an idea for that machine, wouldn't it be possible to install something on there which would make the Netbook a gaming device for all the visiting grand kids? A marvellous idea! Reusing old hardware for something useful is very gratifying! But there are pro and cons to wonderful ideas like this, here we go:
Pro's

The netbook would not be lost and would not rot somewhere in the attic (we can't throw it away now, can we …)
I would be able to prove my knowledge of Open Source based gaming software to the entire family! A dream come true!
My nieces and nephews will love me!
Arcade emulation software is easy to find in the Open Source community!
I will be able to play "Elite" again , old school gaming is great !
Con's

It's an assignment from the most authoritative person in our entire family, failing is not an option.
I will be tinkering with this until it works because failing is not an option.
It's an unfair assignment, this thing has "boot time", kids nowadays do not get the concept of "boot time", tablets never boot … I'm doomed
So let's see what I was able to slap on the Netbook. I did not want anything I needed to tinker a lot with. My time is limited and I just wanted an old laptop to boot and be able to play with it. I stumbled upon Puppy Linux Arcade which looked like the distro of choice for this particular task. This Arcade distro apparently supports the following game modes:
Amiga (500, 1000, 2000, CD32, CDTV), Apple (68k, 128k, 512k, SE, MacOS, Plus), Atari (400, 400 XL, 800, 800XL, 130XE, 5200, Falcon, Lynx, ST, others), Amstrad (CPC, Plus, VEB, others), Arcades (many), Colecovision, Commodore (64, 128, VIC20, PET, others), Doom, GameBoys (GB, GBC, GBA), GameGear, Genesis/MegaDrive, Intellivision, Master System, MS DOS, MSX, MSX2, N64, NDS, NeoGeo, NeoGeo Pocket, NeoGeo CD, NES/Famicom, PC Engine/TurboGrafix, PC-FX, PlayStation, PSP, ScummVM, SNES, Wonderswan, Virtual Boy, ZX Spectrum (16k, 48k, 128k, +2, +2A, +3) and more!
It's easy to create a USB boot stick from the ISO ( remember Unetbootin ? ), and even easier to just boot up and play from that USB stick. But I needed more, I wanted the Netbook to boot from it's proper hard drive and start the necessary software from there. This was not completely straightforward, let's go over the steps:
The Installation
1. Create your boot USB
Find a Puppy Arcade version that suits your hardware the best, one of them is bound to work, download it from the Puppy Linux Arcade web site
Use Unetbootin to create your USB boot stick
Boot and try out if this particular ISO is to your liking
2. Install the distro on the hard drive
This one was a bit trickier, there was no 1 button installer like you would find on a Ubuntu flavored liveCD, it's a bit more complicated than this, let's go:
First set your language, keyboard and other settings: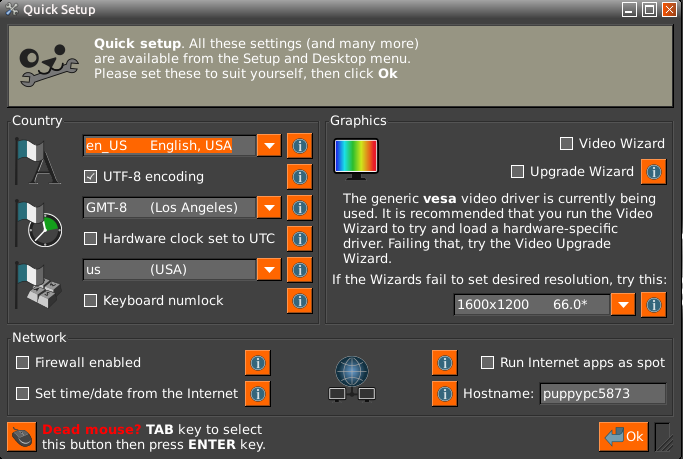 Go to the menu ( or right click on the desktop ) and start the Puppy Univeral Installer. Choose your internal hard drive.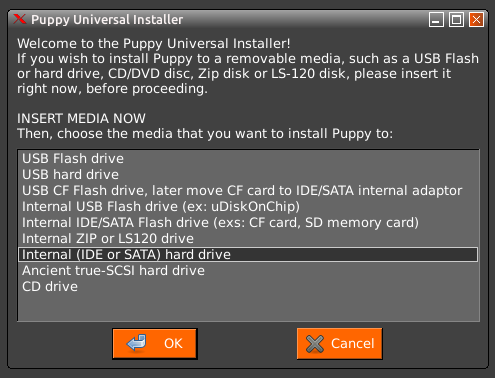 Use Gparted to partition your drive if necessary.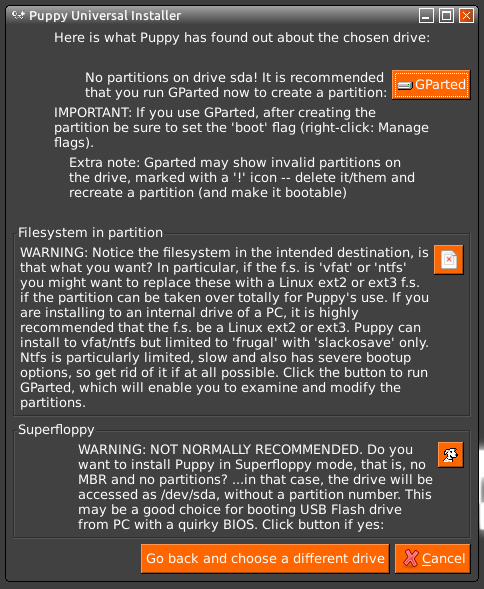 When Gparted has finished you can choose 'Install Puppy on sda1'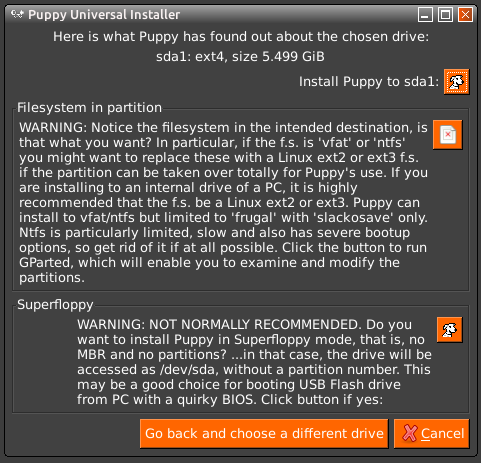 Copy the files from the 'CD'. The CD is off course your USB drive.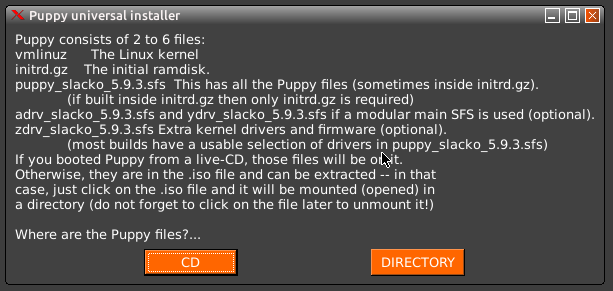 Get a coffee.


From this point on, Puppy Arcade has been installed on your hard drive. But you're not there yet, you still have to configure GRUB or LILO to start from that drive.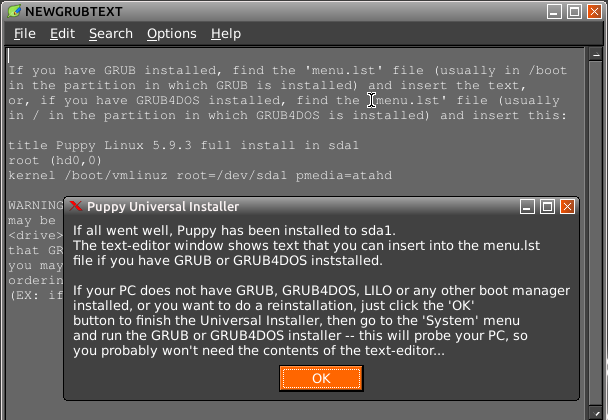 I used 'Legacy GRUB Config 2013' from the menu, just to be on the safe side with my vintage hardware. Reboot without your USB stick inserted and you should have booted from your hard drive. All should be well.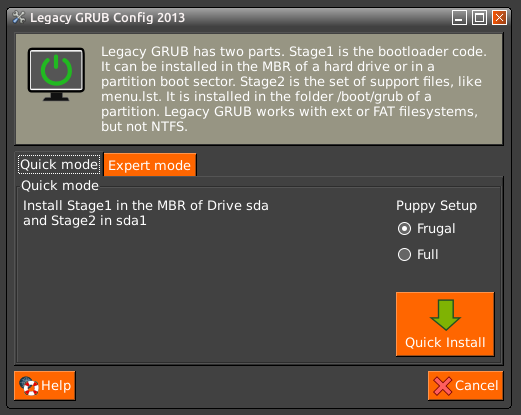 Search for the file sharing possibilities in the menu, this way you can transfer your ROM files to your new gaming device (or you can off course transfer them via a USB stick)


And now the fun begins: start the ROM Loader, choose your Arcade device of choice and start gaming!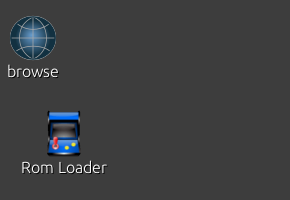 Elite … Finally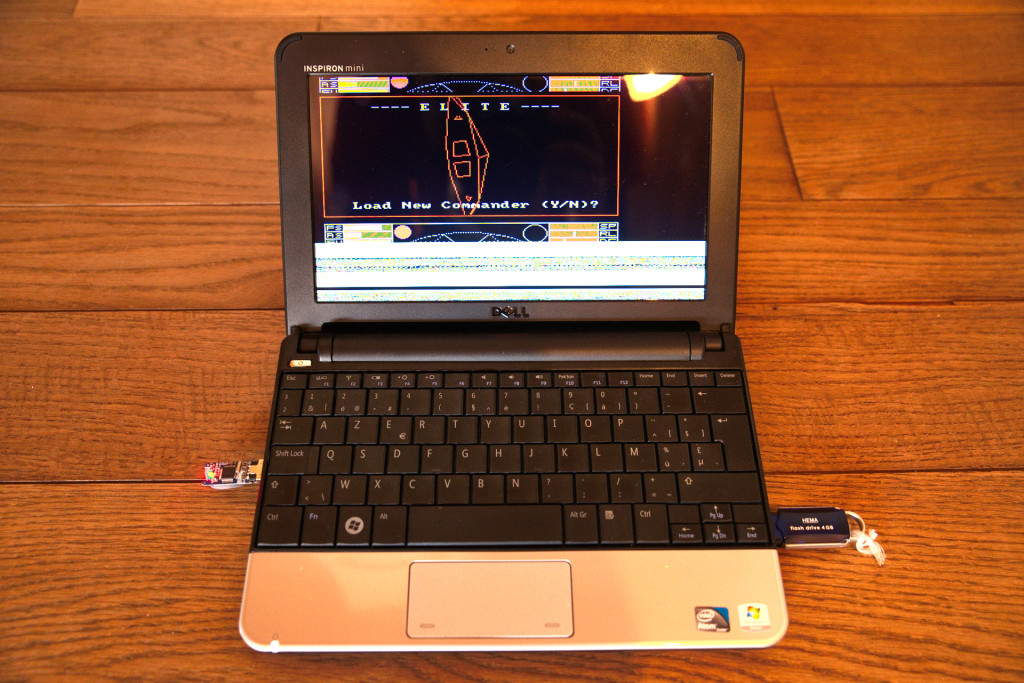 Using the setup
Getting the installation done was not too hard, I managed to have a working setup in less than an hour and could immediately start using all the different game emulators which come pre-installed and preconfigured.
The Rom loader must be the biggest feature to this distribution since this is your starting point from where you can choose your game engine (and games) of choice. Thanks to the extensive game info database it's easy to download the right cover art for your particular game Rom. You can navigate the Rom loader with your connected joysticks or pads of choice, so starting the Rom loader from boot could be a good option if you want your kids to be able to play without too much hassle.
This distribution comes without any ROMs installed, you will have to collect these somewhere for yourself. If you just want to test it out, mamedev.org can be a good start because they have a list of downloadable, free to use ROMs. If you have games lying in boxes in the attic, then I do not think it can be a problem if you download the specific ROM for those games from somewhere else and play with them in an emulator. But do check the legality when downloading ROMs.
For myself, I've made some mental calculations about some particular games that I played in an Arcade Hall when I was a student. While I think I provided the budget for the development of some games completely by myself (by spending thousands of coins which I should have spent on food) it can still be considered illegal to download that particular ROM and play with it in an emulator.
Conclusion
Puppy Arcade is a very nice Arcade Distro, it has everything you need to turn your redundant device of choice into a Retro Gaming Device. Arcade geeks should love this. But did I succeed in making something that my nieces and nephews will use? Unfortunately not. The main goal was to have something that would boot and could be instantly usable to game, here's why I did not succeed in this task:
You might have noticed that the picture of the resulting setup has 2 USB sticks, this was something I wanted to avoid. I succeeded in installing the set-up on the hard drive but after a few boots GRUB could not find the drive any more. Instead of troubleshooting I just decided to boot again from a USB drive and use the ROMs from another USB drive.
Some emulators work out of the box, some can give errors with your specific hardware of choice, in my case the Amstrad Emulator has problems with the video output, something I need to investigate.
Starting the games and finding the right buttons to 'insert coins' and 'start a game' is hard for teenagers, if it takes too long to start gaming their attention has drifted to a nearby tablet or phone.
Arcade gamers understand the concept of gaming without the possibility to save a game, this generation does not and does not have to understand the concept. This concept was coin-driven, and we ran out of coins in the gaming industry a long time ago.
I still hope that Puppy Arcade (or other Arcade Distro's like Groovy Arcade) will manage in making a distro that is easy to install on the hard drive, easy to maintain and use. But I'm not sure if that is an objectivve for such a Distro, Retro Arcade Gaming is not something you can make everyone happy with. Maybe it's just one bridge to far.
The most important is the fact that distros like these exist and are available to you, in this way you can get your fix for serious gaming nostalgia without too much hassle. If you like the distro, do not forget to donate to the developer. It's a nice piece of work.
Beer
While writing this review I enjoyed the company of an Arend Blond